Worth Noting
Editor's note: part of this commentary is taken from an interview with Fox News contributor Karl Rove that aired on Fox News Channel with Bret Baier on Saturday, August 11.

If this election is about little choices, its outcome is uncertain. If the election is about big things, Republicans are more likely to win. By picking Paul Ryan as his running mate, Mitt Romney signaled his belief that the race is about big ideas -- putting America's fiscal house in order and renewing prosperity by cutting the deficit, reforming the tax code and saving the social safety net.

Vice presidential picks often say more about the presidential candidate than the VP candidate. That's the case today. Romney's choice will help focus the race on real issues and make it harder for Barack Obama to engage in distractions.

When picking his running mate, Romney could decide to be bold or comfortable, focus on politics or governing. By choosing bold and governing, he signaled his campaign is about a robust and attractive reform conservatism.

Democrats will jump on this pick. Witness their television ad last fall in which a Ryan-like character pushed grandma over the cliff.

This is a mistake. Seniors are deeply concerned about the deficit. Ryan will be able to patiently explain the commonsense plan to restrain spending that he and Romney advocate.

Barack Obama has no plan to ever balance the budget and instead increases spending dramatically in the years ahead.

Ryan will be able to make this point powerfully to the American people. He's done it at home. While Bill Clinton (twice), Al Gore, and Obama carried his district, Ryan has consistently won with mid- to high-60s since his first race.

Ryan is a stellar addition to a ticket that gives optimism and confidence to the nation and victory to the GOP.
This article originally appeared on FoxNews.com on Saturday, August 11, 2012.
New Crossroads GPS ad shows that this is the worst economic recovery America has ever had.
Check out Stephen Dubner's latest Freakonomics Radio podcast called "Freakonomics Goes to College, Part 1." I joined to discuss my thoughts on whether college is really worth it.

Bottom line is that we live in a society where credentials matter and the Bill Gates' of the world who go on to create companies like Microsoft are few and far between. Hope you'll listen to the whole podcast. Enjoy!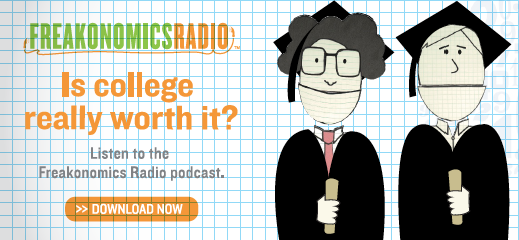 American Crossroads' new video takes on Obama's claim that his comments are being taken out of context.
Even though the Obama campaign spent almost twice as much as Mitt Romney's campaign spent last month, their attacks on Mr. Romney's business experience at Bain Capital are falling flat with voters. In the latest USA Today/Gallup Poll survey, voters still say Mr. Romney would do a better job handling the economy because of his business experience, and a majority says he has the qualities a president should have. While the Obama team continues to burn its campaign funds on these outlandish smear attacks, Mr. Romney's polls are improving, and the race remains virtually tied.

Key Findings:

"By more than 201, 63%-29%, those surveyed say Romney's background in business, including his tenure at the private equity firm Bain Capital, would cause him to make good decisions, not bad ones, in dealing with the nation's economic problems over the next four years."

"The Democratic attacks on Romney seem to have had little effect on voters' assessment of him. In February, 53% said the former Massachusetts governor had the personality and leadership qualities a president should have; now 54% do. Then, 42% said they agreed with Romney on the issues that mattered most to them; now 45% do."

"A record number of Americans express skepticism about the activist role of government Obama espouses; 61% say the government is trying to do too many things that should be left to individuals and businesses. That's the highest number since Gallup began asking the question in 1992."

Read the full report at USA Today.
Tell Obama: for real growth, cut the debt.
Obama says there's a war on women. There is - but it's waged by Obama Economy. For more information on how the President Obama's failed policies are hurting women, check out the new American Crossroads video.
At first glance, the USA Today/Gallup poll of twelve battleground states, conducted June 22-29, looks like good news for President Obama. In the poll released Monday, Mr. Obama leads Mitt Romney 47% to 45% in the territory where most observers agree the presidential race will be settled.
But USA Today failed to provide context for its survey of voter attitudes in Colorado, Florida, Iowa, Michigan, Nevada, New Hampshire, New Mexico, North Carolina, Ohio, Pennsylvania, Virginia, and Wisconsin, just as it did when it issued its May 2 battleground state poll.
In 2008, Mr. Obama won all twelve states with a combined 54% of the vote to Senator John McCain's 45% -- a nine point margin.
Today, however, Mr. Obama is running behind his 2008 performance in these battlegrounds, as his two-point lead over Mr. Romney there is actually seven points less than his 2008 margin over Mr. McCain.
This all points to a defeat this year for Mr. Obama in many (if not most) of the battleground states.
Assuming Mr. Romney wins all the states Mr. McCain carried as well as Indiana (which USA Today/Gallup apparently thinks likely by its failure to include any of those states in its survey), then the GOP challenger needs to take only five battlegrounds to win: North Carolina, Virginia, Florida, Ohio and any other state on the list.
And if Mr. Obama performs like this across the country come November -- the way he is lagging behind his 2008 battleground state performance today -- then he will receive just 47% of the vote nationwide and lose to Mr. Romney.
Context matters: it is strange that USA Today has twice run front page pieces on its battleground state surveys without providing the context that Mr. Obama is running well behind his 2008 pace.
USA Today also declared Mr. Obama "the clear winner in the ad wars" because he leads Mr. Romney 76% to 16% among swing-state voters who say campaign ads have changed their mind about a candidate.
But again, context matters.
Just eight percent of the 1,200-person sample said they changed their minds after seeing campaign ads. That's a pretty small slice of any poll to make sweeping claims about: if the margin of error for a 1,200-person sample is +/- 4%, you can imagine what it is for a 96-person sub-sample.
Suspicions about the reliability of what USA Today reads into such a tiny sample is reinforced by the fact that the latest poll results are the same as their May survey's results, which also found Mr. Obama at 47% and Mr. Romney at 45%. Maybe the ad wars are being fought to a draw, not to Mr. Obama's big advantage.
Yesterday the Obama campaign's Stephanie Cutter pushed back against the most recent Crossroads GPS ad, which called President Obama to account for a series of broken promises – on helping homeowners in foreclosure, on not raising taxes, on health care, and on cutting the deficit.

The Boston Globe (of all publications) actually said of the video: "She often avoids the specific facts presented by the ad and in one case misrepresents its argument."

Today, Crossroads GPS president Steven Law fired back with a response video of his own – going point by point, detailing Obama's broken promises one by one, with citations from the Washington Post, Politifact, the Congressional Budget Office, and even the White House's own website.
Call Team Obama out on their BS: watch the video, share it with your friends, and consider making a donation to Crossroads GPS. Our country need solutions, not just promises.
Check out this new ad from CrossroadsGPS. Our country need solutions, not just promises.