Worth Noting
Dana Perino's 'And the Good News Is…Lessons and Advice from the Bright Side' is a delightful and inspiring read about her journey from summers on her grandfather's ranch to the White House. In describing her experiences, encounters, decisions, and lessons learned along the way, she provides instrumental insight and advice. Highly recommend this book for all ages, especially those just finishing school or starting their careers.
Read more here and pick up your copy today.
As the 2016 race heats up, I'm constantly asked who I think the Republican nominee could be. The answer is, I don't know, and it will be Fall before the field starts to gel as voters get a better sense of which candidates appear to have the chops to win. Like many Republicans, I'm really excited about the quality field we'll have this time around (the best in decades!) and am looking forward to watching the candidates make their case. They each bring a lot to the table, but don't take my word for it—do your homework.

Almost all the official and soon-to-be-official candidates have written books, put up websites, created advocacy groups and opened social media accounts. It's important to read what each individual has written, learn about their positions on the issues, listen to their speeches, and consider their visions for our country.

To help get you started, here's an alphabetical list of the announced and potential 2016 Republican candidates, along with links to some of their books, websites, and social media accounts. I'll update as more candidates enter the race. I hope you'll take a look and share with your family and friends. You may even want to share the information with Democrats you know who, unfortunately for them, only have one stale option this time around.

There are just about 300 days until the caucuses and primaries begin. Over the next few months, there will be a lot of noise, good and bad, in the media and from Democrats threatened by our strong field. Do yourself a favor and go directly to the source and start to get to know each of them now. When you find the one for you, volunteer, donate, and get involved! This election will be too important (and too fun) to sit out.


ANNOUNCED
Ben Carson
Website: BenCarson.com
Twitter: @RealBenCarson
Facebook: facebook.com/RealBenCarson
Youtube: youtube.com/user/RealBenCarson
Books:
The Big Picture
Gifted Hands: The Ben Carson Story
America the Beautiful: Rediscovering What Made This Nation Great
Think Big: Unleashing Your Potential for Excellence
One Vote: Make Your Voice Heard
Ted Cruz
Website: TedCruz.org
Twitter: @TedCruz
Facebook: facebook.com/TedCruzPage
Youtube: youtube.com/c/TedCruzChannel
Book: A Time for Truth: Reigniting the Promise of America

Carly Fiorina
Website: CarlyforPresident.com
Twitter: @CarlyFiorina
Facebook: facebook.com/CarlyFiorina
Youtube: youtube.com/channel/UCAhi6Xy4xS9lCp5alcN61nQ
Books:
Tough Choices
Rising to the Challenge: My Leadership Journey
Mike Huckabee
Website: MikeHuckabee.com
Twitter: @GovMikeHuckabee
Facebook: facebook.com/MikeHuckabee
Books:
Character IS the Issue: How People with Integrity Can Revolutionize America
Character Makes a Difference: Where I'm From, Where I've Been, and What I Believe
From Hope to Higher Ground: My Vision for Restoring America's Greatness
Do the Right Thing: Inside the Movement That's Bringing Common Sense Back to America
A Simple Government: Twelve Things We Really Need from Washington (and a Trillion that We Don't)
Guns, Grits and Gravy

George Pataki
Website: GeorgePataki.com
Twitter: @GovernorPataki
Facebook: facebook.com/GovGeorgePataki
Youtube: youtube.com/channel/UCcLzMjN1UZcBFIH08iuDuow
Rand Paul
Website: RandPaul.com
Twitter: @RandPaul
Facebook: facebook.com/RandPaul
Youtube: youtube.com/channel/UC_8WUrPbi8clO6sWt_FDvuA
Books:
Tea Party Goes to Washington
Government Bullies: How Everyday Americans Are Being Harassed, Abused, and Imprisoned by the Feds
Taking a Stand: Moving Beyond Partisan Politics to Unite America
Marco Rubio
Website: MarcoRubio.com
Twitter: @MarcoRubio
Facebook: facebook.com/MarcoRubio
Youtube: youtube.com/user/MarcoRubio
Books:
100 Innovative Ideas for Florida's Future
An American Son
American Dreams: Restoring Economic Opportunity for Everyone
Rick Santorum
Website: RickSantorum.com
Twitter: @RickSantorum
Facebook: facebook.com/RickSantorum
Youtube: youtube.com/user/RickSantorum
Books:
Rick Santorum
It Takes a Family
Blue Collar Conservatives: Recommitting to an America that Works

NOT YET ANNOUNCED
Jeb Bush
Website: RighttoRisePac.org
Twitter: @JebBush
Facebook: facebook.com/JebBush
Youtube: youtube.com/channel/UC_Sc6pW4Xe9rQlBRajGm6yA
Books:
Profiles in Character
Immigration Wars: Forging an American Solution
Chris Christie
Website: LeadershipMattersforAmerica.org
Twitter: @ChrisChristie
Facebook: facebook.com/GovChristie
Lindsey Graham
Website: SecurityThroughStrength.com
Twitter: @LindseyGrahamSC
Facebook: facebook.com/LindseyGrahamSC
Youtube: youtube.com/user/USSenLindseyGraham
Bobby Jindal
Website: BobbyJindal.com
Twitter: @BobbyJindal
Facebook: facebook.com/BobbyJindal
Books: Leadership and Crisis
John Kasich
Website: JohnKasich.com
Twitter: @JohnKasich
Facebook: facebook.com/JohnRKasich
Books:
Courage Is Contagious: Ordinary People Doing Extraordinary Things to Change the Face of America
Stand for Something: The Battle for America's Soul
Every Other Monday: Twenty Years of Life, Lunch, Faith and Friendship
Rick Perry
Website: RickPerry.org
Twitter: @GovernorPerry
Facebook: facebook.com/GovernorPerry
Youtube: youtube.com/user/GovernorRickPerry
Books:
Fed Up! Our Fight to Save America from Washington
On My Honor: Why the American Values of the Boy Scouts Are Worth Fighting For
Scott Walker
Website: ScottWalker.com
Twitter: @ScottWalker
Facebook: facebook.com/ScottWalkerforGovernor
Books: Unintimidated: A Governor's Story and a Nation's Challenge
Since 2008, the American people have been told that the private financial sector was responsible for the financial crisis. We hear this every day from the media and the Obama administration. But the fact is, as Peter Wallison shows in his book — 'Hidden In Plain Sight: What Caused The World's Worst Financial Crisis And Why It Could Happen Again' — the financial crisis was caused by government housing policies, implemented through Fannie Mae and Freddie Mac.
This is a really good and important read. Visit here to pick up your copy of 'Hidden In Plain Sight: What Caused the World's Worst Financial Crisis and Why it Could Happen Again' today.
Merry Christmas and Happy New Year to you and your loved ones! Our thoughts and prayers are with our men and women in the military who spend their holidays away from their friends and families in order to keep ours safe.

Thanks for tuning in to every column and Fox News appearance all year and for your encouraging support. See you in 2015!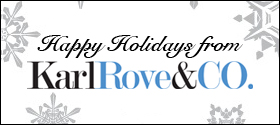 Highly recommend picking up President George W. Bush's new book, '41: Portrait Of My Father.' We have never had the opportunity to hear one president tell the story of his father, another president, through his own eyes and unique experiences. This is a touching read about President George H.W. Bush's life, career, and dedication to his family, as lovingly told by his son.
Click to read more. Want to get a personally signed copy? Visit here.
Crown Publishing Group announced yesterday that President George W. Bush has written a personal biography of his father, President George H.W. Bush, to be released on November 11, 2014. I've read many presidential biographies, but I am especially excited to read this one. Bush 43's personal account of his father's life, service, family and influence on his own presidency promises to be one of the most unique and insightful biographies of its kind.

Read the Crown release here.
In the 2012 presidential race Republican Governor Mitt Romney carried Arkansas by 24-points. So why does the New York Times/Kaiser Family Foundation poll out this morning have a sample that gives Mr. Romney only one point more than President Obama?
With a sample that has Mr. Obama's share 23 points more than it was in the state in 2012, no wonder the survey has Democratic Senator Mark Pryor up by 10 points over Republican Tom Cotton in the 2014 Senate race.
The race is more likely to be where the Real Clear Politics average was before the Times and Kaiser came out of the field: dead even.
The same holds for the 2014 Senate race in Kentucky: Mr. Romney carried it by 23-points. The New York Times/Kaiser Family Foundation poll's sample is only three points more Romney than Obama. That's a 20-point shift to Mr. Obama. No wonder Senate Minority Leader Mitch McConnell leads his Democratic challenger, Alison Lundergan Grimes, by only one point in this new poll.
Mr. Romney carried Louisiana by 17-points in 2012, but the New York Times/Kaiser Family Foundation poll's sample actually gives the state to Obama by three points. What happened to the Romney voters? With a sample skewed so Democratic, the New York Times/Kaiser poll has Senator Mary Landrieu leading Republican challenger Congressman Bill Cassidy by 24 points.
There's more. Mr. Romney carried North Carolina by 2-points. The New York Times/Kaiser poll's sample is seven points more Obama than Romney, a shift of nine points in the Democrats' direction. That probably more than accounts for Democratic Senator Kay Hagan's two-point lead over Republican state house speaker Thom Tillis.
These four state polls conducted by a major newspaper and wealthy foundation grossly over-sample Obama voters, providing a distorted picture of the current condition of each race.
This is either incompetence or a deliberate attempt to boost the fortunes of Democratic candidates in trouble.
If the first, it is a stain on the reputations of the New York Times and the Kaiser Family Foundation.
If the latter, it is time both organizations file the cost of the polls as in-kind contributions with the Federal Election Commission.

This article originally appeared on Foxnews.com on Wednesday, April 23, 2014.
The 2014 TIME 100
David Koch and Charles Koch
Billionaire Activists Driving Conservative Politics
By Karl Rove

David and Charles Koch are patriots. By grit, persistence and hard work, they built a $100 billion-a-year business that employs tens of thousands. They give generously to medical research, the arts, education, think tanks and science. They care deeply about the values that make success in America possible — free markets, freedom, limited government and competition.

This has led them to the political arena, where they give tens of millions and raise hundreds more to back candidates and causes. For this, they have been excoriated by the left, while the left remains hypocritically quiet when George Soros, Tom Steyer and other left-of-center rich spend to influence politics.

The Kochs have answered abuse with courage, giving encouragement to others on the center-right to get into the fight. Bless them for all they do and all the liberals they send into orbit.
Read full post here.
In my January 2 Wall Street Journal piece I wrote about several remarkable individuals we lost in 2013. When remembering the valiant Medal of Honor recipients who passed last year, there was one who was unintentionally omitted from our list. In addition to Sgt. John Hawk, Master Sgt. Nicholas Oresko, Cpl. Rodolfo Hernandez, and Col. George "Bud" Day, Medal of Honor recipient Sgt. Vernon McGarity of Tennessee died on May 21, 2013.

Sgt. McGarity was wounded in an artillery assault as the Battle of the Bulge began in December 1944, but determined to help his men, he charged back to his team instead of having a medical evaluation. Despite heavy fire and the bitter winter conditions, Sgt. McGarity rescued at least two of his fellow soldiers, immobilized the lead German tank assaulting their position, moved toward the enemy to retrieve more ammunition, and held position with his men until they had depleted their last rounds. Our country is forever grateful and ever stronger for having men and women with the caliber and bravery of heroes like these.