Worth Noting
Since 2008, the American people have been told that the private financial sector was responsible for the financial crisis. We hear this every day from the media and the Obama administration. But the fact is, as Peter Wallison shows in his book — 'Hidden In Plain Sight: What Caused The World's Worst Financial Crisis And Why It Could Happen Again' — the financial crisis was caused by government housing policies, implemented through Fannie Mae and Freddie Mac.
This is a really good and important read. Visit here to pick up your copy of 'Hidden In Plain Sight: What Caused the World's Worst Financial Crisis and Why it Could Happen Again' today.
Merry Christmas and Happy New Year to you and your loved ones! Our thoughts and prayers are with our men and women in the military who spend their holidays away from their friends and families in order to keep ours safe.

Thanks for tuning in to every column and Fox News appearance all year and for your encouraging support. See you in 2015!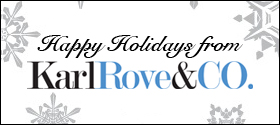 Highly recommend picking up President George W. Bush's new book, '41: Portrait Of My Father.' We have never had the opportunity to hear one president tell the story of his father, another president, through his own eyes and unique experiences. This is a touching read about President George H.W. Bush's life, career, and dedication to his family, as lovingly told by his son.
Click to read more. Want to get a personally signed copy? Visit here.
Crown Publishing Group announced yesterday that President George W. Bush has written a personal biography of his father, President George H.W. Bush, to be released on November 11, 2014. I've read many presidential biographies, but I am especially excited to read this one. Bush 43's personal account of his father's life, service, family and influence on his own presidency promises to be one of the most unique and insightful biographies of its kind.

Read the Crown release here.
In the 2012 presidential race Republican Governor Mitt Romney carried Arkansas by 24-points. So why does the New York Times/Kaiser Family Foundation poll out this morning have a sample that gives Mr. Romney only one point more than President Obama?
With a sample that has Mr. Obama's share 23 points more than it was in the state in 2012, no wonder the survey has Democratic Senator Mark Pryor up by 10 points over Republican Tom Cotton in the 2014 Senate race.
The race is more likely to be where the Real Clear Politics average was before the Times and Kaiser came out of the field: dead even.
The same holds for the 2014 Senate race in Kentucky: Mr. Romney carried it by 23-points. The New York Times/Kaiser Family Foundation poll's sample is only three points more Romney than Obama. That's a 20-point shift to Mr. Obama. No wonder Senate Minority Leader Mitch McConnell leads his Democratic challenger, Alison Lundergan Grimes, by only one point in this new poll.
Mr. Romney carried Louisiana by 17-points in 2012, but the New York Times/Kaiser Family Foundation poll's sample actually gives the state to Obama by three points. What happened to the Romney voters? With a sample skewed so Democratic, the New York Times/Kaiser poll has Senator Mary Landrieu leading Republican challenger Congressman Bill Cassidy by 24 points.
There's more. Mr. Romney carried North Carolina by 2-points. The New York Times/Kaiser poll's sample is seven points more Obama than Romney, a shift of nine points in the Democrats' direction. That probably more than accounts for Democratic Senator Kay Hagan's two-point lead over Republican state house speaker Thom Tillis.
These four state polls conducted by a major newspaper and wealthy foundation grossly over-sample Obama voters, providing a distorted picture of the current condition of each race.
This is either incompetence or a deliberate attempt to boost the fortunes of Democratic candidates in trouble.
If the first, it is a stain on the reputations of the New York Times and the Kaiser Family Foundation.
If the latter, it is time both organizations file the cost of the polls as in-kind contributions with the Federal Election Commission.

This article originally appeared on Foxnews.com on Wednesday, April 23, 2014.
The 2014 TIME 100
David Koch and Charles Koch
Billionaire Activists Driving Conservative Politics
By Karl Rove

David and Charles Koch are patriots. By grit, persistence and hard work, they built a $100 billion-a-year business that employs tens of thousands. They give generously to medical research, the arts, education, think tanks and science. They care deeply about the values that make success in America possible — free markets, freedom, limited government and competition.

This has led them to the political arena, where they give tens of millions and raise hundreds more to back candidates and causes. For this, they have been excoriated by the left, while the left remains hypocritically quiet when George Soros, Tom Steyer and other left-of-center rich spend to influence politics.

The Kochs have answered abuse with courage, giving encouragement to others on the center-right to get into the fight. Bless them for all they do and all the liberals they send into orbit.
Read full post here.
In my January 2 Wall Street Journal piece I wrote about several remarkable individuals we lost in 2013. When remembering the valiant Medal of Honor recipients who passed last year, there was one who was unintentionally omitted from our list. In addition to Sgt. John Hawk, Master Sgt. Nicholas Oresko, Cpl. Rodolfo Hernandez, and Col. George "Bud" Day, Medal of Honor recipient Sgt. Vernon McGarity of Tennessee died on May 21, 2013.

Sgt. McGarity was wounded in an artillery assault as the Battle of the Bulge began in December 1944, but determined to help his men, he charged back to his team instead of having a medical evaluation. Despite heavy fire and the bitter winter conditions, Sgt. McGarity rescued at least two of his fellow soldiers, immobilized the lead German tank assaulting their position, moved toward the enemy to retrieve more ammunition, and held position with his men until they had depleted their last rounds. Our country is forever grateful and ever stronger for having men and women with the caliber and bravery of heroes like these.
We are just days away from the October 1 deadline when the Affordable Care Act goes into effect, but President Barack Obama's signature law is nowhere near ready for primetime. While Mr. Obama travels the country demonizing his political opponents and repeating the same tired lies about the law, Republicans are hard at work on legislation to delay the law and replace it with responsible reforms.
Several weeks ago I wrote about the many ideas Republicans have for health care reform. Here are some of the latest efforts gathering momentum and support:
1. Delay Obamacare: Congressman Marsha Blackburn (R, TN-07) has introduced legislation in the House (H.R. 2809), and Senator Jeff Flake (R-AZ) has introduced companion legislation (S. 1490) in the Senate to delay all provisions of Obamacare set to go into effect in 2014. These include the individual mandate, employer mandate, and Obamacare "exchanges," to name a few.
For more information, recommend reading this joint op-ed from Congressman Blackburn and Senator Flake: Health Care Law Must Be Delayed
2. Replace Obamacare: While stopping the harmful provisions of Obamacare is essential, Republicans know there needs to be a better set of reforms ready to put in its place. That is why Congressmen Steve Scalise (R, LA-01) and Dr. Phil Roe (R, TN-01) unveiled the Republican Study Committee's alternative plan, the American Health Care Reform Act. To name just a few of the provisions, this bill allows Americans to purchase health insurance across state lines, enables small businesses to pool together to get the same buying power as large companies, reforms medical malpractice, provides tax reform to allow families and individuals to deduct health care costs like large businesses, and safeguards individuals with pre-existing conditions.

Read more about the American Health Care Reform Act here.
President Obama would love nothing more than Republicans' providing him a bully pulpit and big stick with which he can beat them daily through the 2014 midterm elections. That's what the Republicans would give Mr. Obama if they shut down the government by trying to defund ObamaCare in the Continuing Resolution (CR) to fund the federal government after October 1.

That's because the Continuing Resolution only affects discretionary spending. Virtually all of ObamaCare costs are mandatory spending, unaffected by what's in the CR. Defunding ObamaCare in the CR would not affect spending for the expansion of Medicaid, which is almost half of ObamaCare's cost. Nor would it affect the Exchanges – the subsidies for insurance coverage – that's also mandatory spending.

In fact, as little as 1% or 2% of ObamaCare's outlays for the first ten years would be affected by adding to the CR a provision defunding ObamaCare.

This could translate into significantly less than $10 billion in discretionary spending cuts for FY14 and the Obama administration could find some of that money in this year's budget or in funds they can move around or simply go without.

Mr. Obama would love for the GOP to threaten a shutdown over $10 billion in ObamaCare funding, while ObamaCare continues to get over $1.5 trillion over the next 10 years. Senator Tom Coburn is absolutely right to say such a strategy could lose the House for the GOP.

Remember, when Republicans shut down the government in 1995, they had funded half the fiscal year's budget including all of defense and still the GOP lost badly in the court of public opinion.

This time, if no CR is passed by September 30 of this year, nothing has been funded. That means there's zero for defense. So the troops won't get paid…starting the first week of October. And other essential services will stop because there won't be any money at all, unlike 1995.

Rather than risking a shutdown of the government over less than $10 billion, Republicans should go on the offense, highlighting the president's threat to shut down the government unless he gets $91 billion more in new spending in the CR. Republicans are for holding the line on spending; Mr. Obama wants more.

ObamaCare is a train wreck. Republicans' warnings about the law are now coming true. Premiums are going up; people are losing their health plans; companies are cutting their employees' hours, costs are far more than estimated and hence the debt bigger that thought as well.

The GOP has better ground fighting against ObamaCare whose problems will grow as implementation gets underway. House Republicans can use their power of oversight to keep drawing attention to the law's many shortcomings. They can attempt to repeal parts of ObamaCare or seriously alter some of its provisions, as the House GOP did when it pressed the issue of delaying the individual mandate when the Obama administration delayed the employer mandate.

The GOP must also offer alternatives. A Crossroads GPS poll from last month showed strong backing for conservative reforms that reduce costs. For example, 81% support letting families save more tax-free for out-of-pocket health expenses, 82% are in favor of allowing individuals to purchase health insurance with pretax dollars, and 78% back the sale of insurance across state lines.

ObamaCare's unpopularity suggests that Republicans can win on health care—but must resist a game of chicken with the president.

This article originally appeared on Foxnews.com on Friday, July 26, 2013.